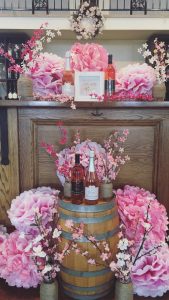 Cherry Blossoms are one of the first signs of spring in Northern Virginia. These gorgeous flowers bloom from mid-March to mid-April and offer residents and visitors a welcome sight after a long winter.
Cherry Blossoms are some of the most fantastic flowers you'll ever see. These light pink flowers bloom in large clusters and have a delicate fragrance. Every year, the National Cherry Blossom Festival in Washington DC attracts thousands of visitors during the four-week long celebration of the beginning of spring.
Rosé Tasting Event
This month, to celebrate the Cherry Blossoms, Breaux Vineyards will be offering a rosé tasting to the general public as well as our Cellar Club members. During this event, visitors will be able to sample all of our pink wines including:
Breauxmance – our sparkling rosé
2016 Rosé – our mainline rosé which includes all of our Bordeaux grapes
Equation Rosé – our 100% merlot rosé
Lineage Rosé – our 100% cabernet sauvignon port-style rosé
Visitors to Breaux Vineyards can sample each rosé while enjoying gorgeous views of springtime in Northern Virginia.
The cost for our rosé tasting event is $7 per person for the general public and $5 for Cellar Club members. Attendees at the event will be able to purchase cases of our mainline Rosé at a 25% discount (30% discount for Cellar Club members).
Visit Virginia's Favorite Winery
Breaux Vineyards is located in Loudoun County, just one hour from Metropolitan DC, Dulles and BWI airports. The vineyard offers fantastic views of rolling hills and the Blue Ridge Mountains. Breaux Vineyards is the perfect spot to celebrate spring.
If you can't make it to our rosé tasting, make sure that you stop by to sample our award-winning wines. Our winery is the perfect location for girls' night out, date night, or a weekend getaway. You're sure to appreciate the vineyard's close proximity to all that the area has to offer.
Breaux Vineyards is pleased to offer our rosé tasting event to wine lovers celebrating spring in Northern Virginia. Please contact us for details about this event.