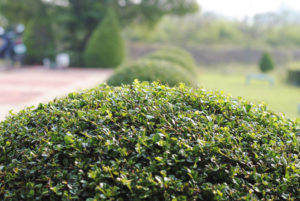 The Knights Who Say "Ni" aren't the only ones who love a good shrubbery — many homeowners do, too. But just because shrubs are ubiquitous doesn't mean they have to be boring. On the contrary, they can add essential visual interest that can turn an otherwise ordinary yard into something special. If you've been looking at shrubs for sale but aren't exactly sure what to go for (or how to go about executing it), these five creative ideas are a great place to start.
Define your property lines. If you live close to your neighbors, you'll probably want to find a way to create some privacy. A fence might not be your style (and it might even be against your zoning codes) and trees may block out too much light for your garden. Shrubs can provide the perfect solution, as they're a great in-between that can add both beauty and seclusion to your yard. Looking for solitude all year round? Focus on evergreen shrubs for sale. No matter the season, they'll always look fantastic.

Have a home for birds. Whether you care about local wildlife or have a kitty cat who loves nothing more than to watch the birds outside your window, you can use shrubs to make the birds flock to your property. Shrubs provide safety from predators while allowing the birds to nest and gather food. Some shrubs even offer delicious berries on which winged creatures can feast. Research local birds you love and find shrubs for sale that match their preferences. You can then plant those shrubs near water sources and other flora that will support your habitat. Just keep in mind that shrubs and trees should be planted four to six feet apart from each other for best results.

Make a maze. Garden mazes can be ideal for larger backyards, especially when you want to make something magical. Actually, a labyrinth is the more accurate term; tall hedges can be made into mazes, but shrubs are ideal for shorter labyrinths. You definitely won't get lost while on this pathway, but this relatively pattern can transform an entire property. You can make a hardscaping labyrinth with stones, as well, but there's something even more enchanting about using shrubs. It doesn't necessarily have to be expansive, either. It can be just one spot in your yard that adds tranquility and charm.

Create a parterre. In the same vein as labyrinths, parterres can add wonder and tradition that look like they're right out of a storybook. It's actually a great option if you have trouble maintaining the health of your lawn. Parterres are gardens that are placed on a level surface. They usually contain planting beds placed in symmetrical patterns that are separated by gravel paths. If you're having trouble picturing it, think of the gardens at Versailles or the knot gardens that came into fashion during Queen Elizabeth I's reign. They may not be a conventional choice for a modern American home, but you might be surprised as to how well it might work in your yard.

Incorporate color. Even if you like more traditional shrub placements, you can still make your property stand out by using color. Flowering shrubs are the easiest way to do this. Instead of being stuck with the basic green 

shrubs for sale

 at your local garden store, you can add vibrant hues to the landscape with hydrangeas, lilacs, forsythia, bottle brushes, rhododendron, Rose of Sharon, and more. While they won't bloom all year round, they'll provide a nice neutral palette during certain months and will show their brilliant blossoms during the spring and summer.

Shrubs can be found in nearly every American yard, but that doesn't mean your choices have to be totally traditional. Whether you need landscape supplies or are looking for the finest shrubs Northern Virginia has to offer, head to Gateway Home and Garden Center.