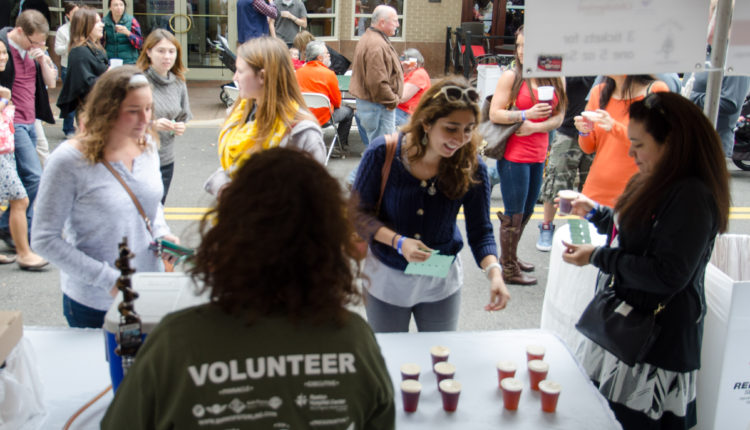 Flavors of Fall Festival (formerly known as Reston Oktoberfest) is Saturday, Oct. 7 at Reston Town Center. This festival features local Northern VA restaurants, entertainment throughout the day, live music and dancing, family activities cornhole competition, and a craft beer garden.
Craft Beer Alley
Even though admission into the event is free, you can spend a little bit extra ($15) and gain access to their Craft Beer Alley which includes three 5oz craft beer tastings and VIP lounge access. Having been to this event in years past when it was Oktoberfest, having a ticket to their VIP area was always well worth it.
Cornhole Competition
Starting at noon on Saturday Oct. 7th, you can warm up with your best friends or co-workers for a Cornhole Competition which kicks off at 1pm. If you are into Cornhole and can assemble  team then you might want to register early as I am sure team slots will sell out fast. Proceeds raised from the competition will go to support INCspire Education Foundation 501c(3). The top 7 teams will be awarded with prize packages; top 3 winning teams receive honors, trophies, and priority selection of exclusive prizes.
Live Music & Entertainment
Flavors of Fall will serve up live performances starting at noon until 11pm at Reston Town Center.
Main Pavilion Stage
Noon – 3:00 pm: Scott Kurt & Memphis 59
3:30 – 6:30 pm: The Fabulous Dialtones
7:30 – 10:30 pm: The  VIPs
Noon – 11 pm on band breaks DJ Jon Paul
Craft Beer Alley & VIP Lounge 
Noon – 11 pm: DJ with dancing
Local Cuisine
Some of the 2017 Flavors of Fall Food Vendors are:
Barcelona Wine Bar
Choolaah Indian BBQ
Clyde's of Reston
GreenFare
Pittsburgh Rick's
Mom's Momo
Tavern64 Regional Kitchen
The Melting Pot