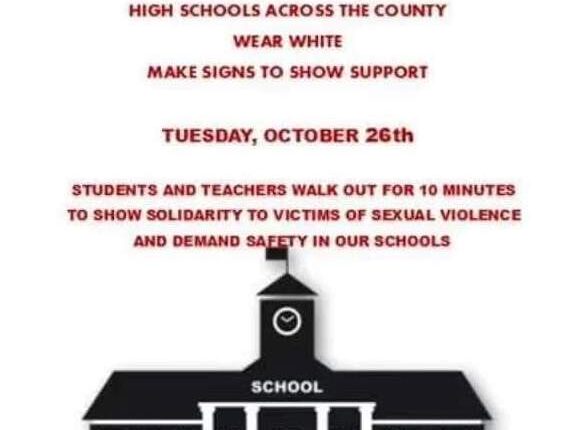 Loudoun County Students Protest In Support Of Sexual Assault Victims
Loudoun County students "walked out" of class today for 10 minutes to protest alleged sexual assault incidents that happened at Stone Bridge High School and Broad Run High School.
Various Loudoun County High Schools provided students who wanted to protest with a designated time and space for students to exercise their freedom of expression. School security and resource officers were on duty during the walkout. The walkout occurred between 10:45-10:55 am this morning for most Loudoun County High Schools.
At the Broad Run High School walkout, students were heard chanting "Loudon County protects rapists". The father of a Stone Bridge High School 9th-grade student who was allegedly sexually assaulted at bathroom says his family has retained a law firm to pursue a lawsuit against LCPS for their failure to protect his daughter.
Loudoun County Sheriff's Office stated that the alleged sexual assaults occurred at Stone Bridge High School on May 28, and Oct. 6 at Broad Run High School. WUSA9 reported that the same boy was charged in both alleged assaults. The Daily Wire reported that Loudoun County Public Schools tried to conceal sexual assault against his daughter.