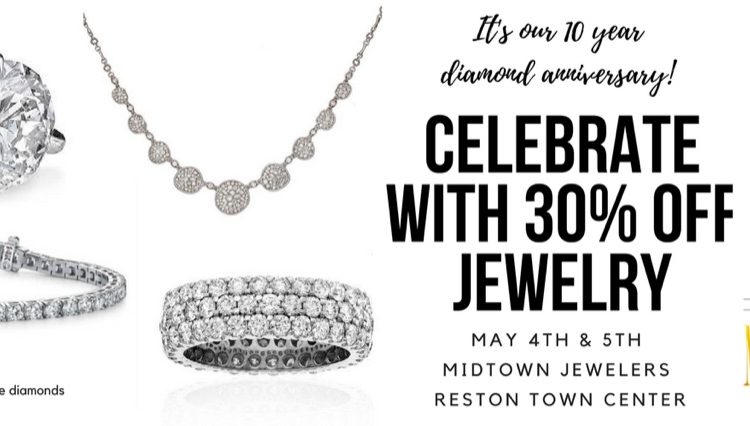 Midtown Jewelers announced this week that they are holding a 10 Year Diamond Anniversary event.
Midtown Jewelers, a Northern Virginia-based jewelry boutique, is pleased to announce that they are celebrating ten years at their Reston Town Center location. In honor of their 10 Year Diamond Anniversary, the jewelry store will be offering a 30% discount on all in-stock jewelry and watches. This offer does not include loose diamonds or engagement rings.
Midtown Jewelers will be hosting their 10 Year Diamond Anniversary event on May 4thand 5th. Attendees will get a first-hand look at the jewelry store's latest renovations and be able to take advantage of the boutiques' exclusive anniversary discount.
This event will take place at Midtown Jewelers in Reston Town Center on Friday May 4th, from 10am to 7pm and Saturday May 5th, from 10am to 6pm. Private appointments can be scheduled in advance on the jewelry store's website.
"We are extremely pleased to announce our 10 Year Diamond Anniversary in the Reston Town Center," said Bobby Singh, Owner of Midtown Jewelers. "It has been an amazing journey and we've seen many changes around us both in Reston Town Center, and Reston as a whole. Through out it all, we have been very fortunate to have the support of so many wonderful clients, friends, neighbors, and fellow Reston businesses. We would like to show our gratitude with this special event on the weekend of May 4th & 5th, which will provide all of our wonderful supporters a first-hand look at our newly renovated store, and a first glance at our newest styles, just in time for Spring and Mother's Day. As a special thank you, we are offering 30% off all of our jewelry and watches!" Bobby added, "In celebrating 10 years in Reston Town Center, I would like to personally thank my family, especially my wife Julie, and my team that have always treated Midtown Jewelers as their own."
Reston Town Center is located just six miles east of Washington Dulles International Airport and a short drive from Washington DC. The trendy shopping center is home to a variety of prestigious shops, restaurants, and entertainment venues.
Midtown Jewelers is a family-owned jewelry boutique with roots in the Northern Virginia community going back to 1982. The jewelry store opened in Reston Town Center in 1998. Since that time, Midtown Jewelers has received numerous awards including the WeddingWire Bride's Choice Award six years in a row and the Knot Best of Weddings award in 2016 and 2017. They were inducted into the Knot Best of Weddings Hall of Fame earlier this year.
About Midtown Jewelers
Midtown Jewelers is a jewelry boutique located in Reston, Virginia. The jewelry store offers a large selection of high quality jewelry and timepieces from some of the world's most renowned designers. Midtown Jewelers strives to provide exceptional quality, service, education, and options to their clients. The boutique specializes in custom jewelry and engagement rings. Midtown Jewelers has received several awards and have been recognized by numerous organizations for their quality and service.
For more information about Midtown Jewelers, please visit their website at http://www.midtownjewelers.com