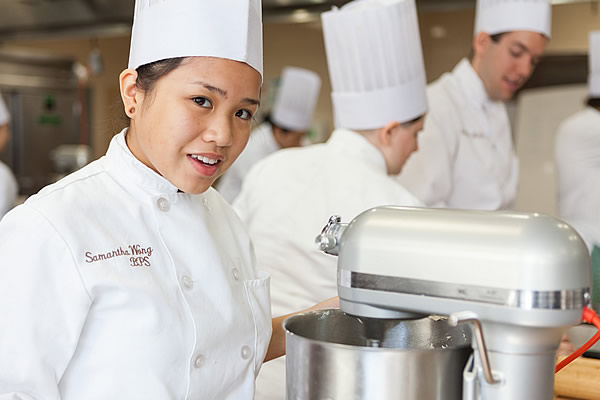 The Average Cost of Culinary School
Are you looking for a challenging new career? Do you like to cook, bake or the restaurant industry? If so, pursuing a professional degree in the culinary arts is a serious endeavor, and one you may want to consider. One thing is certain: It pays to be educated by only the best culinary arts schools with world-renowned professional educators. Normally costs for culinary school will include tuition, supplies, uniforms and the average cost of living. 
A professional culinary degree doesn't have to be expensive, but it is a significant investment. Take your time with careful and thoughtful deliberation on the subject, before deciding to pursue your passion for cooking and baking.
There are numerous financial assistance programs available to our students, both publicly funded through the government, as well privately backed loans. Additionally, a lot of schools offer in-house payment solutions that give students the opportunity to pay for their culinary education in a manageable structure, interest free. Moreover, all students may attend financial aid workshops to ensure that you are taking full advantage of every opportunity for financial assistance available to you.
There are many avenues you can take to finance your culinary education.
Government Grant Programs
There are government grant programs available to students through the Federal Pell Grant Program and the Federal Supplemental Education Opportunity Grant.
Federal Pell Grant Program
The Federal Pell Grant Program is a needs-based program for qualified applicants with exceptional financial needs and who have not already completed a bachelor's degree. Pell Grants do need to be repaid.
Federal Supplemental Education Opportunity Grant
A Federal Supplemental Education Opportunity Gant (FSEOG) is awarded to students who show exceptional financial need, and they are usually awarded to those students who also receive Federal Pell Grants as a form of supplementary assistance.
Active-Duty Military Personnel & Veterans Tuition Assistance
If you are currently serving in the United States Military either on active duty or in the reserves, you may be entitled to both state and federal tuition assistance. The best course of action for military personnel is to speak with your company education officer wherever you are stationed. If there are funds available for your tuition, they will be authorized directly to you as the student.
Additionally, some Culinary schools offer a VA scholarship to United States military veterans. An application is required.
In-House Payment Plan
The in-house payment plan is available for students who plan to pay for their culinary education themselves while attending one of the best culinary arts schools in the world. You will be invoiced on the first of each month and will not be charged interest if the balance is repaid on time. Certain restrictions apply. Please contact the Financial Aid Department of your culinary school of choice to inquire about an in-house payment plan.
Ready to Pursue Your Culinary Degree?
If you are ready to follow your passion for the culinary arts through a world-renowned culinary education at one of our Culinary Institute schools, we are here to help. To learn more about all the financial assistance programs available, visit your school of choice financial aid website.