Three People Shot, Including a Loudoun County Deputy, at Dulles Crossing Plaza
The Loudoun County Sheriff's Office said that three people at Dulles Crossing Plaza, including a Loudoun County Sheriff's Deputy, were shot Saturday by man who is still at-large. The investigation is ongoing, and residents are asked to avoid the area, the Sheriff's Office said.
All three people suffered serious injuries and were transported to a hospital. Loudoun County Police say the shooter took off in a stolen vehicle and lead a car chase into Fairfax County where the suspect crashed the stolen vehicle on Willard Road in Chantilly.
The suspect, described as a Hispanic man with a ponytail, wearing a grey sweatshirt and sweatpants and black shoes. Anyone who sees him is asked to call 911. The suspect is considered armed and dangerous.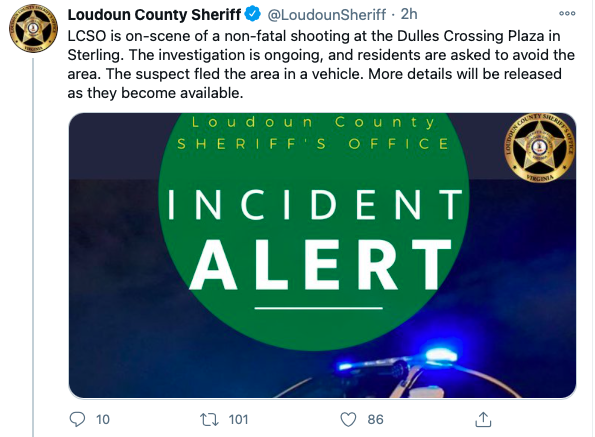 Dulles Crossing Plaza'sBank of America was also the scene of an armed robbery earlier in the day. The Loudoun County Sheriff's Office is currently investigating an armed robbery that occurred on Saturday morning in the 45400 block of Dulles Crossing Plaza. No injuries were reported. If you can identify, call Det. McCormack of the #LCSO at 703-777-1021. https://bit.ly/2X4WB7e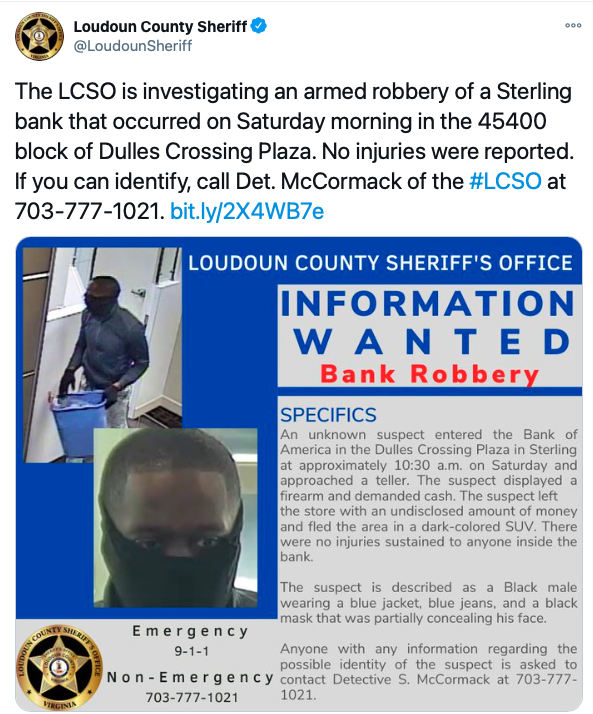 The suspect entered the Bank of America at Dulles Crossing Plaza at approximately 10:30 a.m. on Saturday and approached a teller. The suspect displayed a firearm and demanded cash. The suspect left the store with an undisclosed amount of money and fled the area in a dark-colored SUV. There were no injuries sustained to anyone inside the bank.
The suspect is described as a Black male wearing a blue jacket, blue jeans, and a black mask that was partially concealing his face. For more information please visit the Loudoun County Sheriff's Office.