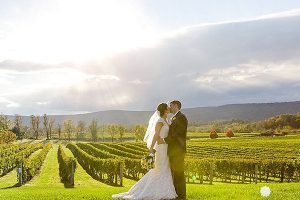 With its gorgeous scenery and natural beauty, a winery wedding is the perfect combination of rustic and romantic. In addition to gorgeous backdrops, when you host your wedding at a vineyard, you also get to enjoy fabulous wine with your partner and your guests.
There are a number of different ways to host a vineyard wedding; the following are our favorite ideas.
Unique Invitations
Let your guests know about your theme with unique, custom-made invitations. There are several templates and ideas available online. Once you've selected a theme for your invitations, make sure you carry it through to the rest of your ceremony with matching escort cards, menus, coasters and more.
Wine Cork Décor
When planning the perfect vineyard wedding, you'll want to make sure that every detail is considered. From centerpieces to place card holders, there are many different ways to decorate with wine corks. For an extra special touch, create wine cork boutonnieres for all of the men in your wedding party.
Colors 
Stick to colors that compliment your theme and create an elegant look and feel. Berry-colored bouquets reminiscent of red wine and centerpieces add glamour to your wedding. Complete the look with candles and gold details. These go perfectly with the lush greenery of the vineyard and rustic feeling of wine barrels and your perfect location in the valley of the vines.
Rustic Touches
Create the perfect spot to say, "I do" with a rustic canopy covered with greenery and white blooms. A wine barrel makes the perfect rustic altar for a vineyard wedding. Wine barrels can be used in all sorts of ways from flower displays to bar tables and so much more.
Wine Blending Ceremony
Celebrate the blending of your lives by blending different types of wine throughout your ceremony. At the beginning of a ceremony, it can involve parents and signify the uniting of two families. Placed later in the ceremony, like Sand or Unity Candle ceremonies, a wine ceremony may symbolize the blending of two lives into one. By blending sweet and dry wines together, it can be used to symbolize the marriage bond that persists in times and joy and in sorrow. Regardless of how a couple chooses to use wine, it can add a touch of elegance to the moment, and is perfect for a winery wedding ceremony.
The Perfect Backdrop
A vineyard provides the ideal backdrop for wedding photography. Consider taking your post ceremony photos surrounded by rows of gorgeous grapevines, with the mountains in the background. With a 404 acre estate, Breaux Vineyards has endless opportunities for the perfect photo op both indoors and outdoors.
Guest Book
Instead of a traditional guest book, have your guests sign wine bottles instead with gold, white, or silver sharpie. You and your spouse will love reading the messages from your loved ones as you enjoy your special wine on your one-year anniversary and beyond.
Want more winery wedding inspiration? Check out our past weddings page and our follow our vineyard vows Pinterest board for more beautiful winery wedding ideas. 
Breaux Vineyards in Loudoun County provides the perfect location for an elegant vineyard wedding, offering six different event spaces for weddings and receptions. Breaux's 104 acres of vineyard provide a gorgeous backdrop for a wedding your guests won't forget.