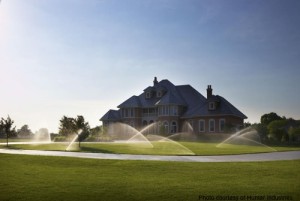 Winter is Coming! Time to Schedule Your Sprinkler System Winterization
Prepare Your Sprinkler System for Winter with Professional Winterization Services
Sponsored Post:
As the colder months approach, it's crucial to protect your Northern Virginia sprinkler system from freezing temperatures. Don't leave your sprinkler system vulnerable to costly repairs in the spring. Schedule your Sprinkler Winterization, also known as a Sprinkler Blowout, now.
Let Superior Sprinkler's experienced irrigation technicians handle the winterization process, ensuring your sprinkler system remains in optimal condition year after year. Protect your investment and enjoy hassle-free spring irrigation with our professional Northern Virginia winterization services. Your sprinkler system deserves the best care.
Here's why our Sprinkler Winterization Services are a must-have for Virginia homeowners:
1. Prevent Costly Repairs: Our winterization process removes all excess water from the system, significantly reducing the risk of costly repairs in the spring. Freezing Virginia temperatures can cause water to expand within your sprinkler system, leading to cracked pipes, damaged valves, and broken sprinkler heads.
2. Sprinkler System Longevity: Properly winterizing your sprinkler system helps extend its lifespan. By removing water and protecting components from freezing, you ensure that your system remains in good working order, ready to provide efficient irrigation when spring arrives.
3. Certified Techniques: Our certified technicians are well-versed in winterization techniques tailored to your specific sprinkler system. We use industry-leading equipment and proven methods to ensure thorough water removal from all components, including pipes, valves, and sprinkler heads.
4. Time and Effort: Winterizing a sprinkler system can be time-consuming and complex. Our irrigation technicians takes care of the entire process, saving you valuable time and effort. We handle all the necessary steps, allowing you to focus on other winter preparations.
Invest in maintenance program for your sprinkler system's well-being and protect it from winter's chill. Choose our sprinkler winterization service for a worry-free winter and a thriving landscape in the seasons ahead. Don't risk damage to your sprinkler system this winter.
Once your irrigation installation is complete, keep your sprinkler system in great condition with Professional Maintenance Services from Superior Sprinkler. Is your sprinkler system ready to deliver lush green lawns and vibrant landscapes? Don't let a poorly maintained sprinkler system waste water, damage plants, and drain your wallet. Superior Sprinkler's professional sprinkler maintenance service ensures optimal performance and efficiency, saving you time, money, and headaches. Annual Spring Start-Up
Pressurize irrigation system
Program controller for appropriate spring settings
Check heads for proper orientation/coverage, adjust/clean if needed.
Install backflow preventer (if applicable)
Annual Sprinkler Winterization
Purge system of water using compressed air
De-activate irrigation controller
Backflow preventer will be removed and left with home owner
Monthly Maintenance Services (6 visits: May, June, July, August, Sept. and Oct.)
Checking controller for proper electrical voltage to each valve in the field
Checking heads throughout the system for proper spray and rotation; adjusting as needed
Adjusting controller watering times to ensure each specific area is being watered properly.
Checking rain sensor for proper operation (if installed)
Checking electrical valves for seepage
Walking property checking for main line and lateral line breaks
Checking drip lines (if installed) for proper operation